"The idea of finding shared ideals and working toward them together is what makes this partnership different."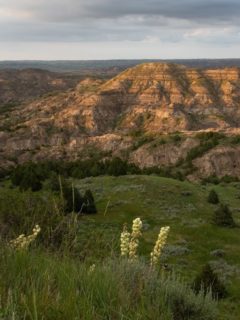 WF: What have you learned so far? What has surprised you?
Laurel: People are more than willing to talk. In this divisive time, people don't feel heard or that they're welcome to weigh in on environmental issues. Many are eager to share and converse — and even be recorded on video!
As somebody who's been in the environmental field a long time, and who can be cynical, it's profound to see these videos. What we learn is that the people that seem to be lined up against us are the people we need to be talking to more. Once you hear their fears, you can have a conversation. It opens up a place for all of us to figure out where and how we care for Montana.
I've also been surprised by how valuable the canvas is for letting people know who we are. The opposition has been successful in defining us from their perspective. To do the deep canvas we have to show up as environmentalists or conservationists and talk openly to people. I find there are a lot of questions about who we are and what motivates us. By showing up, we begin to define ourselves – and show our diversity and shared values on both sides of the doorstep.
WF: What are some common perceptions (or misperceptions) about conservationists in Montana that this project might help dispel?
Laurel: I think that in Montana the biggest issues are that environmentalists are perceived as privileged, elite, and out of touch. This is exacerbated by some economic problems that aren't easily solved. Bozeman and Missoula are doing well and they derive economic benefit from public lands. But folks in more rural areas perceive of environmentalists as sitting in comfy ski lodges, planning how to stop progress in rural areas.
The deep canvas helps get at the real fears of residents who might feel like it's a jobs-environment narrative, or we don't care about jobs. We're using the canvas to better understand local peoples' fear and to get at their perceptions of environmentalists.
WF: Prairie Populist is a special communications component of the Montana Engagement Project. Tell us about it.
Laurel: Prairie Populist is a web publication created to give Montanans a chance to share stories and offer commentary about what's happening in our state and our way of life. We've created a place to ask questions about what our elected officials are doing to defend what matters to us. The reporting is driven by curiosity and accountability. We showcase voices and issues overlooked by other media, including stories about state parks, open space bonds, and rancher-environmentalist collaborations. We call the site "Prairie Populist" because of Montanans' independent streak – little guy vs. big corporations.
WF:  How does a forum like this help achieve conservation outcomes?
Laurel:   The writers take on principles of "solutions journalism" and seek solutions to large problems in their communities.  Prairie Populist seeks writers who are curious and able to keep their own biases at bay.  We genuinely want to cross political lines and use this forum as another way of having difficult conversations and through the process, help people tell their conservation stories and build trust in one another.
WF:  What are some important things you hope Montana decisionmakers will learn from the Montana Engagement Partnership by the end of 2019?
I hope they hear that to be a successful elected official in Montana, you have to represent your people by being pro-conservation.  Simply put, I hope they hear that it's important to a bi-partisan, socio-economically and geographically diverse set of Montanans that we conserve our lands, waters, and wildlife.