Wilburforce Foundation: What drives your passion for the transboundary rivers?
Hardcastle:  When I was growing up, I spent every summer within a couple miles of the Taku River, commercial salmon fishing in Taku Inlet and exploring at my family's cabin near Taku Harbor.  My father is a fisherman and for my parents, salmon has always been the Holy Grail—salmon is what you treated with utmost care.  The Taku, and all it provided, led me to graduate studies in ecology and marine and coastal policy.  Today, my husband, my parents, dear friends and I co-own a fishing company called Taku River Reds, and we market the salmon caught by my dad and other Southeast Alaska fishermen.  So, the conservation of the transboundary region isn't just about the salmon for me, it's about the transboundary rivers.  The Taku, that river, is who I am.
Wilburforce Foundation:   Why are salmon such an important consideration when we think about an ecosystem?
Hardcastle:  In many places, like Southeast Alaska, salmon are an intrinsic part of culture, recreation, and the economy.  That means that if you consider the ramifications of any potential development through a salmon lens, you'll learn a lot. If the impacts of a proposed project on salmon will be good or neutral, the development is probably good for the economy and socioeconomics of the region.  If it's bad for salmon, it's probably bad for many aspects of the community.
Wilburforce Foundation: What's the best part of your job and the Salmon Beyond Borders campaign?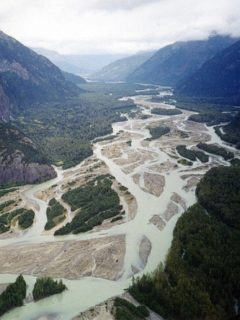 Photo: Salmon Beyond Borders
Hardcastle: The best part of the job is the people: all the people I've met already, and those I know are to come.
I also love that this issue, and our over-arching vision for this region, is unprecedented. That makes the work exciting–and incredibly difficult. A binding international agreement to protect these watersheds is the immediate goal. But ultimately, to protect this part of the world for generations to come, we need new ways of thinking and new conservation tools. There's no management approach now that works for watersheds that cross borders, affect people of two countries, are holistic, and responsive to 21st century resource development pressures. There is an urgency to this work; we need to protect this place so it isn't impacted beyond a tipping point–and we have to do that fast.
Wilburforce Foundation:   What gets people involved and engaged in the campaign?
Hardcastle:  I remind people that our elected officials are often only in office for the equivalent of a couple of salmon cycles or less. But it is their responsibility to lead–and we must come together to make those elected officials think, plan, and protect salmon and wildlife, with foresight longer than one salmon cycle.  That really resonates with people.
"People are finding solidarity in the cause of protecting the iconic watersheds we all care about."
Wilburforce Foundation:   You've talked to thousands of people about the need to protect the transboundary watersheds. What have you learned?
Hardcastle:   That we have to keep connecting people in Alaska with those across the border—our Canadian neighbors.  First Nation communities' leaders have shared how they feel under siege by all the mining projects proposed on their territories, and our Alaska Native partners have expressed how they feel like they're sitting ducks downstream from a potential disaster.  Until this campaign, the border had separated people who are all dealing with the same issues and love the same places.  Now people are finding solidarity in the cause of protecting the iconic watersheds we all care about.  That's so powerful.   If we keep talking to each other, in Alaska and with our neighbors across the border, things will really start to change.  It makes no sense to be divided; whether we're people of the headwaters, or people at the mouth of the rivers, the salmon and wildlife don't know a division, and we shouldn't either.  This is truly a conservation issue and opportunity beyond borders.