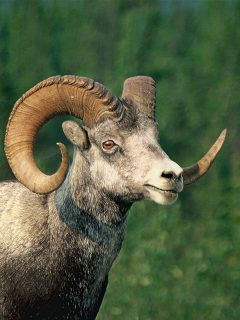 Stone sheep, Muskwa Kechika Management Area, British Columbia, Canada. Photo: Harvey Locke
Stretching over 2,000 miles, the Yellowstone to Yukon ecoregion is a worldwide model for large landscape conservation. From Yellowstone National Park in the south, the ecoregion follows the spine of the continent north to the Yukon where the mountainous corridor spills out onto the Arctic plains.
The ecoregion boasts a full complement of native wildlife. In addition to providing wildlife habitat, the region supports diverse livelihoods, recreation opportunities for locals and visitors, and drinking water for millions of regional residents.The Yellowstone to Yukon ecoregion spans two countries, three states, two provinces and two territories. Ensuring that this vast region continues to thrive for people and wildlife takes engagement and leadership from private citizens, conservation organizations, scientists, agencies, elected officials, the philanthropic sector, and First Nations and Native American Tribes.
The priority regions for the Yellowstone to Yukon Program are:
• Crown of the Contintent
• Greater Yellowstone Ecosystem
• Inland Rainforest
• Salmon-Selway / Hells Canyon
• Y2Y Far North
For more information about these regions, please see our Priority Region Map.
Staff Contact:
Liz Bell
Program Officer
206.632.2325 x115
liz@wilburforce.org
Bob Freimark
Program Associate
206.632.2325 x116
bob@wilburforce.org
Resources: