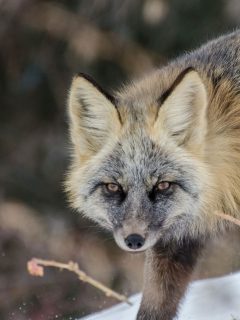 Photo: Jean Polfus
Wilburforce Foundation is science-driven; we continually seek out knowledge from a wide range of natural and social sciences. Our Conservation Science Program invests in research to make sure the right data is available when and where the decisions are being made. And we ensure scientists, advocates and decision makers have the capacity and skills to take the science, engage in meaningful ways, and use it to inform conservation decisions.
Science and scientists are integral to planning and implementing conservation solutions. Science can be a common language that can bridge gaps between different communities and form a common basis for understanding. We believe that when scientists are part of the conversation, we get better and more durable conservation outcomes.
Join our team! Wilburforce is hiring a Program Officer for Science and Capacity
Wilburforce Foundation has launched a search for a Program Officer for Science and Capacity to ensure that our grantees, scientists, and partners have the knowledge, tools, and skills necessary to be effective in their conservation work.
Wilburforce has contracted with Koya Leadership Partners to manage the search process. Please download  this PDF for the complete job description and information on how to apply.
 x
---
 x
What we fund
1. Research in support of Wilburforce Foundation's place-based conservation programs
We prioritize the synthesis and analysis of existing data where possible, with a focus on enhancing biodiversity and ecological resilience in the face of global change.
Priorities:
•  Climate adaptation
•  Connectivity
•  Ecological Economics
•  Emerging opportunities to address knowledge gaps where new or better science is essential for advancing conservation in our priority regions.
2. Engagement

Building the capacity of scientists to communicate effectively and engage in management and policy.
Priorities:
•  Communications and policy training for scientists
•  The Wilburforce Fellowship in Conservation Science
•  Supporting networks of scientists in applied conservation management or policy
3. Science Capacity
Building the capacity of our grantees and partners to find, access, and use technical information from the natural and social sciences that is credible, current, and accurate.
Priorities:
•  Data sharing and collaboration
•  Science support for grantees' efforts in conservation planning, climate adaptation, and more
4. Science Policy
Ensuring policy and management decisions are made based on the best available science.
Priorities:
•  Science integrity in the U.S. and Canada
---
 x
What we don't fund
Wilburforce Foundation does not invest in science that falls outside of our priority regions or does not have a direct tie to our programmatic strategies.
---
 x
How to Apply
Our Conservation Science Program Officer position is currently vacant, and we plan to launch a search process later this year. Until a new program officer is hired, Wilburforce Foundation is prioritizing its relationships with Conservation Science grantees that have already received funding in 2017, and is unlikely to consider new projects.
If you believe your work should be a high priority for consideration, is time-sensitive, and is a good fit for our Conservation Science Program please email Paul Beaudet a short summary of the following:
•  A brief description of your work and how it supports on-the-ground conservation, management, or policy in one or more of Wilburforce Foundation's priority regions.
•  Describe the management and/or policy application of your work: tell us why it matters.
•  Identify key partners and the target audience for your data, and show how you are engaging with them.
•  Describe why funding is needed now. (Projects that are not time sensitive will not be considered until after a new program officer is hired.)
Staff Contact:
Paul Beaudet
Executive Director
206.632.2325 x102
paul@wilburforce.org
Resources: