about the fellowship
The Wilburforce Fellowship is a year-long program providing leadership and science communication training, along with coaching and support, to scientists from a wide range of affiliations, career stages, and disciplines. At the root of this initiative is Wilburforce Foundation's commitment to empowering scientists to engage in conservation management and policy discussions, because when scientists are part of the conversation, we get better solutions.
"The Fellowship shifted the needle for me. I feel more humanized as a scientist, more empowered in my dealings with the media and the public, and more hopeful in my role in conservation."
We know the future of conserving nature relies upon a collaborative community of individuals, organizations, agencies, and allied partners who together seek to sustain wildlife and wildlands. The Wilburforce Fellowship builds a community of practice where scientists are advancing decision-relevant research, effectively communicating scientific findings and contributing to conservation solutions by engaging with local communities, policymakers, land managers, and advocates.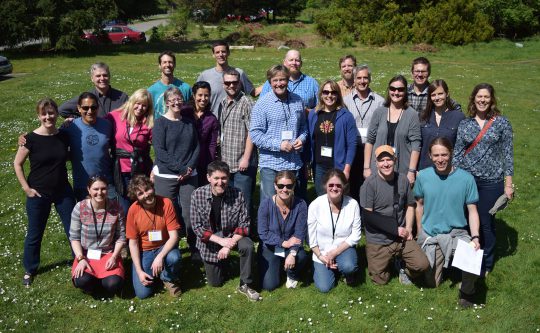 The 2015 Wilburforce Fellows in Conservation Science.
announcing the 2017 wilburforce fellowship in conservation science
Wilburforce Foundation, in partnership with COMPASS, is now accepting applications for the 2017 Wilburforce Fellowship in Conservation Science. This year-long program will begin April 2017. This fellowship is open to 20 scientists working in conservation biology, ecology, environmental economics, or traditional ecological knowledge in one or more of Wilburforce Foundation's Priority Regions. Applicants may be of any affiliation and at any career stage. We aim to bring together a diverse network of researchers—young to senior scientists, from a range of backgrounds—to build their skills and networks in a continuing community of mutual support and inspiration. We have a commitment to supporting an inclusive conservation community; the fellowship program is stronger when multiple voices, values, ways of knowing, and identities are a part of it.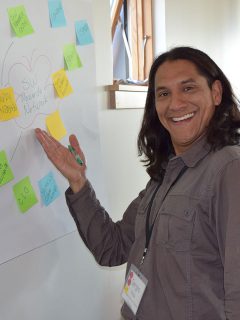 Sergio Avila, 2015 Fellow, developing a network map for his work on monarch conservation at the Arizona-Sonora Desert Museum
Fellows will attend a six-day intensive training led by COMPASS in April 23-28, 2017 in Tucson, Arizona where they will be provided with a comprehensive foundation of leadership and communications skills. At the training, each participant will set a goal for individual or collective engagement on a specific conservation issue, and begin to define an action plan to achieve it. Throughout the following year, fellows will receive coaching and support from trainers and peers to achieve their goals, as well as help connecting with targeted individuals and audiences.
Applications for 2017 are now closed. We will announce the 2017 Fellows in January.
Questions about the fellowship may be directed to COMPASS at: WilburforceFellows@COMPASSonline.org.